Exhibition
With the establishment of NFTs In 2021, digital art became tradable. A digital artist himself, Manuel Rossner started collecting works of collaborators, friends and idols. Expanding to rising talent and historic projects, the collection quickly grew to more than 100 pieces. Many of the works are accessible, large editions. "The World is Not Enough" presents a selection of images, videos, and 3D objects from the collection. It aims to present pioneering work in the field and animate the visitors to dive into the worlds the artists create.
Realities
The title of the exhibition "The World is Not Enough" refers to digital spaces as extensions of the physical world. The New Float building itself is an addition to the physical world in a location that will be occupied by a new museum that is about to be built. The fabric of the city splits into a multitude of possibilities. How will the end of the monopoly of physical space influence art, culture and technology?
The first artwork on view in front of the entrance of the space throws us back into a unfortunately very "real" fight for territorial dominance. Shortly after the inaugural opening of New Float on Febuary 2nd, 2022, Russia invaded Ukraine. An unjustified and horrible attack on the people of Ukraine and territorial integrity of this kind was unthinkable.
For "Hyundai h200", Ukraine based artist Sofiia Privet 3d-scanned a destroyed car in the region of Kyiv. The digital interpretation of the physical object transports traces of the horrors of war into the gallery space.
In contrast, the large column of Manuel Fernandéz "NEW RUINS. GOOGLE EARTH TOUR" promotes the idea of a multitude of cultural heritage. The artist copied a column of the Acropolis in Athens from Google Maps. He colored it with his specific pattern and uploaded it back to Google's map of the work. This artwork was first shown in the exhibition "What We Call Sculpture" in Manuel Rossner's first digital gallery project "Float Gallery" in 2013.
Simon Denny, in contrast, picks up the remnants of a former imagined future: His DotCom Seance revives companies from the first investment hype around the internet around 2000.
Abstractions
The walls of the lower floor of the collection room are dedicated to abstract works of art. From Nicolas Sasson, to Rafaël Rozendaal and Kim Asendorf a variety of artworks invites the visitors to get lost in the abstract. Works like Damjanski's "Unhuman Composition 6" or Manuel Rossner's "Surprisingly Blue #1" use traces of human movements as a base for abstract paintings or compositions.
Jan Robert Leegte uses user interface elements for his "Ornament #42". Touchandsoundart's "GAN Body" recomposes human body parts as an animated sculpture in the center of the space and brings them to the digital space. How do humans experience the mathematical digital world?
Identities
From the second floor, a variety of works reflects on identities of the digital world. A collection of works by Lorna Mills plays with clichées about gender and memes of puppies. Debbie Tea's and Owi Lunic's work offer a glimpse into a personal environment. Two villains by feltzine and a CryptoMutt by Kenny Schachter have been a part of the PFP (Profile-Picture Collection) hype of 2022. They raise the question of who we are in digital worlds and metaverses. Similarly the Universal Everything on the opposite wall shows a character walking in an endless loop. Through its movement the person creates an empathy that is surprising for a digital entity that never existed physically.
Cibelle Cavalli Bastos and Nicole Ruggiero play with their own image or representation in the digital. Next to them, Jon Burgermann and Alex Crouwers work visualize empowering characters in the form of star signs and animated color dots.
John Yuyi projects a toolset that usually controls the facial expressions of a digital face on her body. Jon Rafman shows the texture of a digital person's face with superficial signs of usage in the form of red lips. Chris Coleman uses a human figure as a base for a shapeshifting algorithm.
Language
Language is one of the most basic forms of human expression. While handwritten text is disappearing, one's signature is still a personal trace and the way to confirm contracts and the authorship of artworks. Operator and Anika Meier highlight the inequality of signatures on artworks based on the artist's gender. Sasha Stiles creates visuals poems by manipulating handwritten lyrics created by artificial intelligence.
Sarah Meyohas launched her project Bitchcoin in 2015, even five months before Ethereum. She proposed three ideas: using blockchain to track the ownership of artworks, public fractional ownership and the blockchain as a medium. The "Bitchcoin Manifesto" writes this history.
Visit Now
Experience our exhibitions on Spatial.io. Download the app and follow the link or open it in your browser. Share the same link with friends to explore together. Spaces with 50+ people will split into multiple instances for optimal experience.
Exhibition Views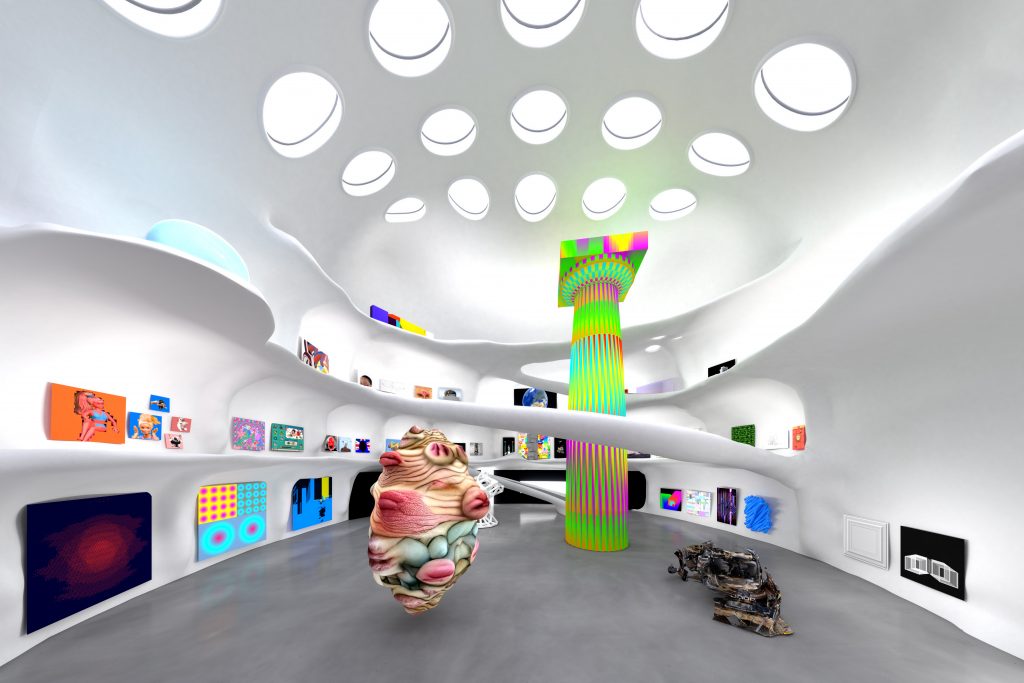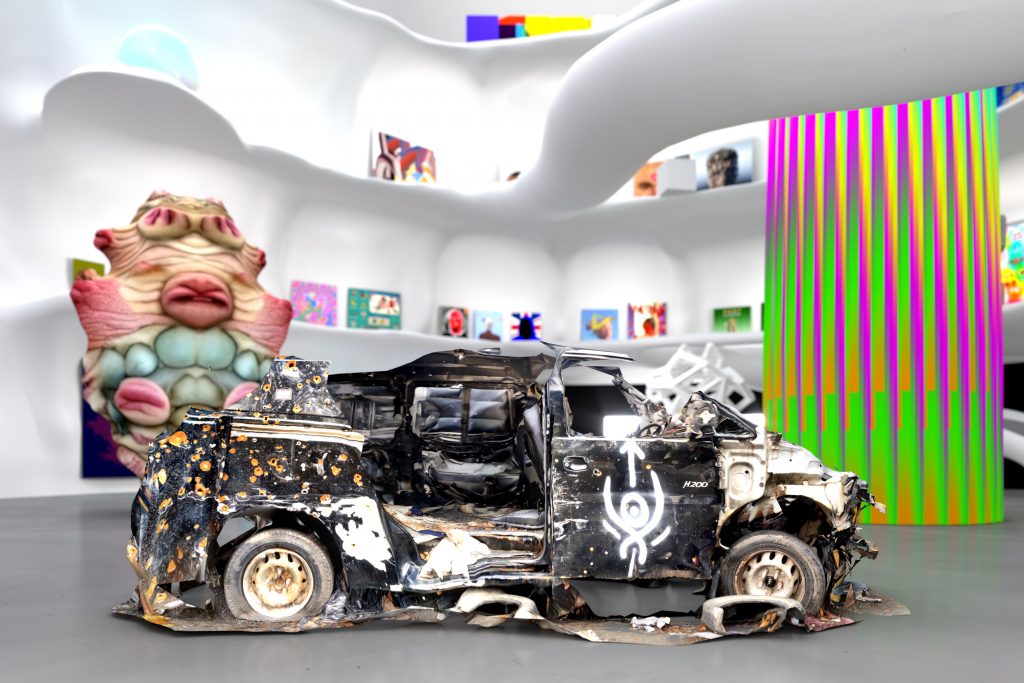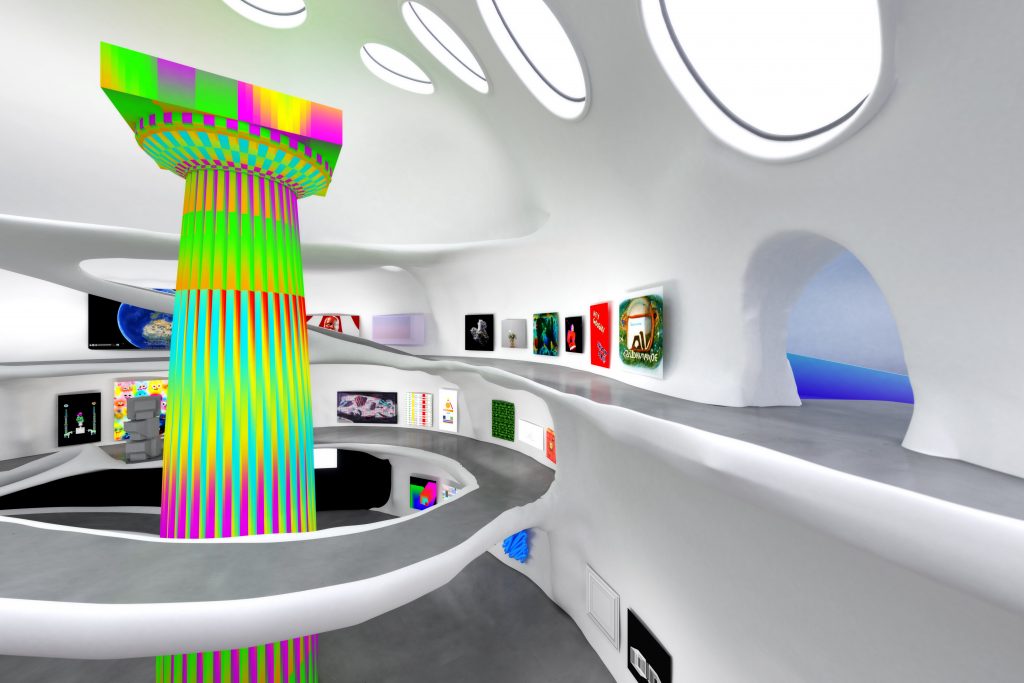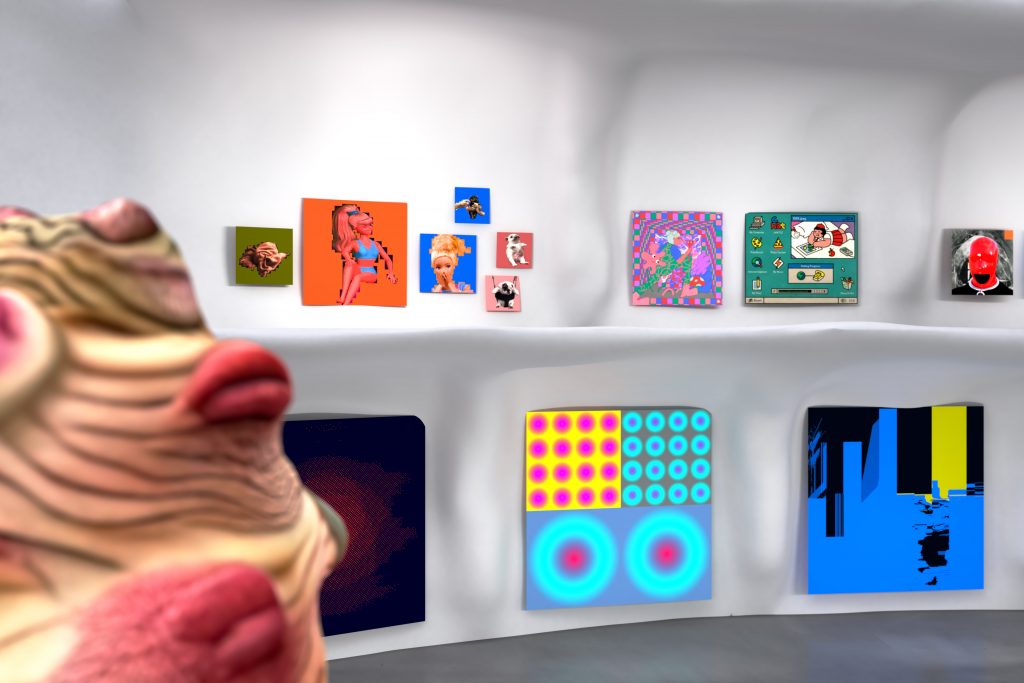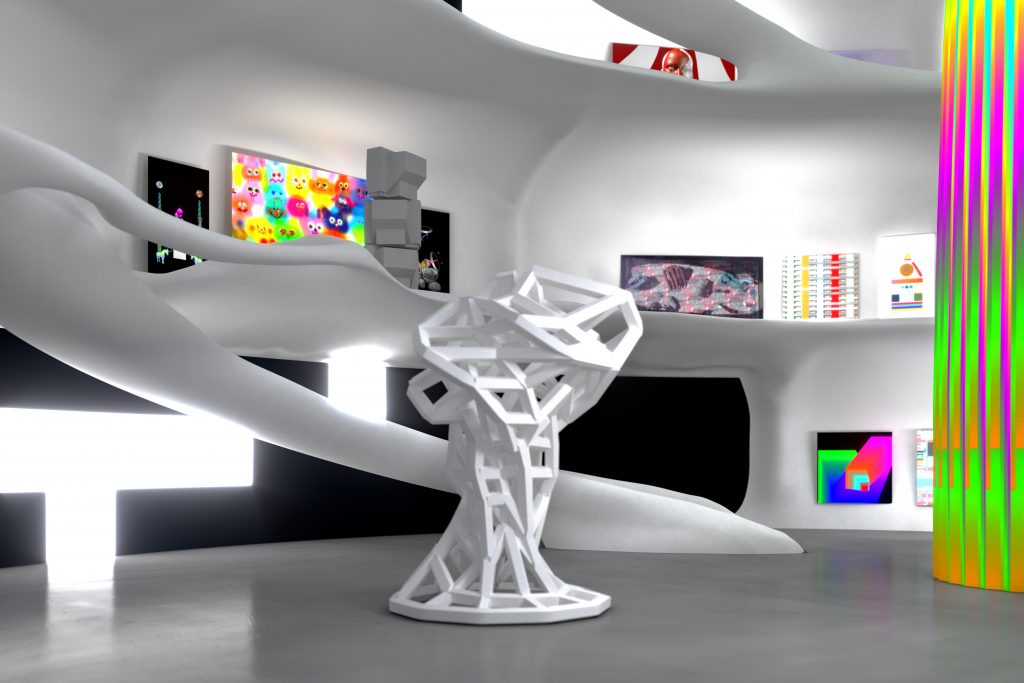 Artists
Kim Asendorf

,

Nancy Baker Cahill

,

Banz & Bowinkel

,

Claudia Brăileanu

,

Jon Burgerman

,

Cibelle Cavalli Bastos

,

Chris Coleman

,

Petra Cortright

,

Simon Denny

,

Alex Crouwers

,

Damjanski

,

Diane Drubay

,

Felt Zine

,

Manuel Fernández

,

Herbert W. Franke

,

Francoise Gamma

,

Max Haarich

,

Leander Herzog

,

Mario Klingemann

,

Florian Kuhlmann

,

Jan Robert Leegte

,

Owi Liunic

,

Anna Lucia

,

Jonas Lund

,

Coco Magnusson

,

Anika Meier

,

Sarah Meyohas

,

Lorna Mills

,

Skye Nicolas

,

Nissla

,

Operator

,

Matthew Plummer-Fernández

,

Sofiia Privét

,

Jon Rafman

,

Casey Reas

,

Colette Robbins

,

Manuel Rossner

,

Rafaël Rozendaal

,

Nicole Ruggiero

,

Nicolas Sassoon

,

Kenny Schachter

,

Marcel Schwittlick

,

Yoshi Sodeoka

,

Sasha Stiles

,

Debbie Tea

,

Touchsoundart

,

UBERMORGEN

,

Universal Everything

,

Iskra Velitchkova

,

Addie Wagenknecht

,

Marius Watz

,

John Yuyi

,

John Zobele

,
Changelog
May 9, 2023
Current Limitiations
Videos are displayed as still images.
Limited set of characters supported in captions.
No links displayed in captions.
Changes
New selection of artworks from the collection.
Moved the experience from the Realworld.Art app to the Spatial.io platform. Additional functionality like multiple users in one experience.